Airgun Mods
Airgunning is one of the hobbies I picked up during the pandemic since I couldn't visit the range for awhile. It turned out to be a very convenient way to enjoy target shooting in my backyard. Below are a handful of accessories and mods I've designed and 3D printed for my collection PCP and springer airguns.
---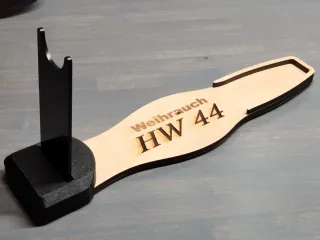 HW 44 - Pistol Stand
When I got the HW 44 I wanted a nice way to display it on a shelf that would complement it's slick design. I made this simple stand which incorporates 3D printed and laser cut wood and acrylic parts.

HW 44 Pistol Stand (Printables.com)
---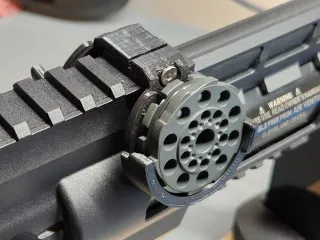 HW 44 - Dual Magazine Holder
I designed this saddle style mount that attaches to the top pic rail and holds the two included magazines for the Weihrauch HW 44 PCP pistol.

HW 44 Dual Magazine Holder (Printables.com)
---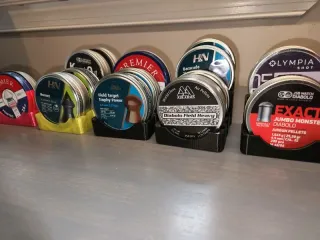 Pellet Tin Stand
Simple holders I designed to store my pellet tins upright for easy identification.
STLs on Printables
---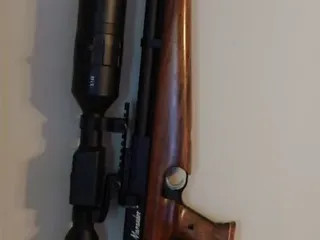 Rifle Wall Mount
Custom wall mount for my modded Benjamin Marauder Pistol. This gun needed to be on display after I added a custom Steve Corcoran wood stock and night scope. I made a simple shelf for the butt stock and hook for the barrel. Gravity keeps it securely in place and easy to remove.
STLs on Printables
---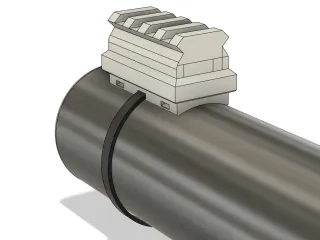 Magnetic Quick Swap
I wanted a way to quickly attach an IR light or torch to my Leshiy when I took it out ratting. I designed this simple magnetic mount which zip ties to the end of the barrel. A mating piece provides a short picatinny rail which stays on the accessory. Magnets allow for quick alignment and attachment.
STLs on Printables
---